Industrial Electricians In Merseyside
Industrial Electricians in Merseyside. Experienced, reliable and qualified industrial electricians and electrical engineers in your area. In the name of compliance, we offer professional and convenient electrical and mechanical services.
Quality is our number one goal and we are never willing to settle for anything but the best for our customers. We're punctual and geared up to complete  jobs in as little visits as possible. We offer a wide range of services including;
If you are looking for professional and qualified industrial electricians in Merseyside, then you are in the right place. We cover Merseyside and districts including; Birkenhead, Bootle, Crosby, Knowsley, Liverpool, Sefton, Sefton North, Sefton South, Southport, St. Helens, Wallasey, Wirral.
Our professional team of electrical engineers provide electrical and mechanical services to industries such as manufacturing, chemical process, textiles, food and distribution.
Check out our Linkedin page to find out what we've been up to recently and give us a follow!
Fully Insured Electrical Contractors
Indacon Ltd is a fully insured electrical contractors business. It's a fact of life that, despite our best efforts, sometimes things can go wrong. And it's in those moments that having the right electrician insurance in place is so important – protecting against potential liability is about protecting our livelihood should the worst happen. It also gives our customers extra peace of mind.
CHAS Accredited contractor
CHAS (The Contractors Health and Safety Assessment Scheme) is an accreditation that proves that a contractor's health and safety processes meet a benchmarked standard.
Whilst there is no statutory requirement to hold a CHAS accreditation, many clients in the construction industry insist that any contractors they engage are accredited, either with CHAS, or one of the other accreditation schemes.
CHAS comes under the umbrella body of SSIP (Safety Schemes in Procurement). SSIP is supported by the Health and Safety Executive and is committed to ensuring the reduction in health and safety assessment costs and bureaucracy in the supply chain, by making cross-recognition between member schemes as effective as possible.
NICEIC Approved Contractor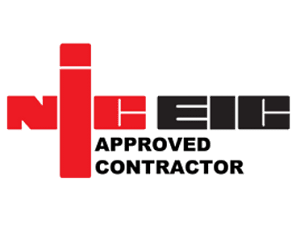 What is an NICEIC Approved Contractor ?
NICEIC – National Inspection Council for Electrical Installation Contracting is the UK's leading voluntary regulatory body for the electrical contracting industry, NICEIC champions electrical safety and high industrial standards of work. For sixty years it has been assessing the electrical competence of electricians to compile a register of Approved Contractors.
Contractors are approved via a rigorous assessment process that includes reviewing a sample of the contractor's work, inspecting documentation and equipment and evaluating the competence of key supervisory staff. Regular reassessment then ensures continued compliance with NICEIC standards.
Why choose an NICEIC Approved Contractor ?
The Platinum Promise covers work undertaken by contractors registered by NICEIC. The Platinum Promise provides protection to any entity using a NICEIC registered contractor. In the event that a contractor undertakes work that is found not to comply with the required regulations or standards, the Platinum Promise will help to put this work right. In the first instance the original contractor will be instructed to undertake any remedial work. If this this not possible the Platinum Promise will pay for remedial work to be undertaken by an alternative contractor up to the value of £25,000 per installation. The Platinum Promise is valid for a period of six years from the date of completion of the original work. NICEIC is concerned solely with the safety and technical standard of the work carried out by NICEIC registered contractors.