Industrial Electrical Installation
Cable containment systems, Power distribution boards, SWA cable supplies etc.
Commercial electrical installation
Lighting, EV Charge points, EICR's, Emergency repairs etc.
Machinery Breakdowns
24/7 Call out service, fault diagnosis, fault rectification, emergency repairs etc.
Indacon ltd are NICEIC approved electricians and we offer electrical installation services to industrial sectors such as manufacturing, distribution and chemical process as well as commercial environments like offices, retail, health care and sports facilities.
We are based in Greater Manchester, but our electricians are available across the North West of England, with 24/7 call out service available for machinery breakdowns and emergency repairs. As electricians we are experienced and highly qualified with certification recognised under the electrotechnical certification scheme which accredits the qualifications and experience of workers in the electrotechnical industry.
If you own or are responsible for industrial and commercial facilities or industrial equipment and machinery then you need our services. Our services include but are not limited to;
• Electrical installation within industrial and commercial environments.
• Installation of electric vehicle charge points.
• Electrical installation condition reports.
• Machinery breakdowns & emergency repairs.
with 24/7 call out service as mentioned above.
Industrial electrical installation involves the installation of large power distribution boards and industrial machinery. The installation process must be done in accordance with safety regulations and standards to ensure that employees and equipment are protected from potential hazards. This type of work requires a high level of expertise and experience, which our electricians have in spades.
Commercial electrical installation is similar to industrial in terms of the scale of the work, but typically involves smaller businesses rather than factories or warehouses. We're well-versed in all aspects of commercial electrical installation and can help get your business up and running quickly and safely.
Indacon Ltd. is a leading commercial electrical installation service provider. We offer a wide range of electrical installation services to businesses of all sizes. Our team of highly skilled and experienced electricians are dedicated to providing the highest quality of workmanship and customer service. We are committed to providing our clients with the best possible electrical installation experience, from start to finish.
Electric Vehicle Chargers
With an ever-growing number of registered electric vehicles on the road, there is an increasing demand for electric vehicle charge points at business premises. The future of transportation is electric, and Indacon Ltd has the expertise to provide you with an EV charge point that will meet your requirements. If you require an electric vehicle charge point at your facility then Indacon Ltd can supply, install, and test a new EV charge point that is correctly scoped and sized for your needs.
Indacon Ltd have partnered with suppliers and manufacturers to provide you with reliable and cost-effective electric vehicle supply equipment. We are OZEV-approved charge point installers which means you could be eligible for a grant of up to £350 towards each charge point installed!
Electrical installation condition reports (EICR)
An electrical installation condition report is a detailed inspection and test of an electrical installation and is required periodically for all electrical installations. As a building owner, landlord or manager of a plant or commercial property it is your absolute responsibility to ensure that your electrical installation is safe and well maintained. Indacon Ltd provides a comprehensive and expert electrical installation condition report (EICR) by identifying any required and recommended actions to ensure your organisation remains compliant and safe.
The EICR is a legal requirement for landlords and without one, your insurance could be void. In 2020 it became necessary to have an updated certificate at least every five years or whenever there's a change of occupancy to maintain coverage with all parties involved (tenant). Our engineers can advise on the frequency of your EICR as this change's dependant on the condition of the installation.
NICEIC Approved Contractor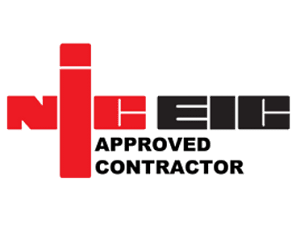 What is an NICEIC Approved Contractor ?
NICEIC – National Inspection Council for Electrical Installation Contracting is the UK's leading voluntary regulatory body for the electrical contracting industry, NICEIC champions electrical safety and high industrial standards of work. For sixty years it has been assessing the electrical competence of electricians to compile a register of Approved Contractors.
Contractors are approved via a rigorous assessment process that includes reviewing a sample of the contractor's work, inspecting documentation and equipment and evaluating the competence of key supervisory staff. Regular reassessment then ensures continued compliance with NICEIC standards.
Why choose an NICEIC Approved Contractor ?
The Platinum Promise covers work undertaken by contractors registered by NICEIC. The Platinum Promise provides protection to any entity using a NICEIC registered contractor. In the event that a contractor undertakes work that is found not to comply with the required regulations or standards, the Platinum Promise will help to put this work right. In the first instance the original contractor will be instructed to undertake any remedial work. If this this not possible the Platinum Promise will pay for remedial work to be undertaken by an alternative contractor up to the value of £25,000 per installation. The Platinum Promise is valid for a period of six years from the date of completion of the original work. NICEIC is concerned solely with the safety and technical standard of the work carried out by NICEIC registered contractors.
CHAS Accredited contractor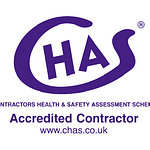 CHAS (The Contractors Health and Safety Assessment Scheme) is an accreditation that proves that a contractor's health and safety processes meet a benchmarked standard.
Whilst there is no statutory requirement to hold a CHAS accreditation, many clients in the construction industry insist that any contractors they engage are accredited, either with CHAS, or one of the other accreditation schemes.
CHAS comes under the umbrella body of SSIP (Safety Schemes in Procurement). SSIP is supported by the Health and Safety Executive and is committed to ensuring the reduction in health and safety assessment costs and bureaucracy in the supply chain, by making cross-recognition between member schemes as effective as possible.
Fully Insured Electrical Contractors
Indacon Ltd is a fully insured electrical contractors business. It's a fact of life that, despite our best efforts, sometimes things can go wrong. And it's in those moments that having the right electrician insurance in place is so important – protecting against potential liability is about protecting our livelihood should the worst happen. It also gives our customers extra peace of mind.
Don't just take our word for it, here's what our customers have to say about us;
"Electrical work on 5 tonne manipulator has been resolved extremely effectively. Very professional approach focused on health and safety of the machine. Definitely recommend."
Artur Tomaszewicz
Engineering Manager
"I have been dealing with the lads from Indacon for years now and they are a pleasure to work with. Their work is of a high quality standard with exceptional attention to detail. Highly recommended."
"Indacon have done an excellent job of all the work they have carried out on our site. Extremely reliable and always willing to go the extra mile to get the job done on time and always to a high standard."
Stephen Lane
Engineering Manager
Our hours
For general enquiries call anytime between 07:00 and 17:00 Monday to Sunday. For breakdowns and emergency repairs our engineers are available 24/7. 07305 394 101
Monday - Friday
07:00 until 17:00
Saturday - Sunday
07:00 until 17:00